Being the newbie blogger that I am, I don't exactly know if I'm following proper protocol with my next act. But I'm guessing with my rookie status, I can claim ignorance and fall back on the old "better to ask forgiveness than permission". A very dear and wonderful friend, who is a fairly new blogger herself, encouraged me to pursue this blogging adventure which I've enjoyed more than I would have ever guessed. In her short time blogging (about 3 months), she has already met and socialized with a large group of Memphis bloggers and done a guest post for one of them. She also suggested me to her new acquaintances as a possible participant in a big group giveaway they were all just about to kick-off. They included me in their giveaway which has resulted in a huge boost in my followers...especially considering my blog hasn't even been up a month yet. This fabulous friend of mine is Jaime at Mommy On A Mission. She is an absolute doll whose blog has such a positive, uplifting, yet feisty vibe, so be sure to click here and pay her a visit. Maybe even show a little love by leaving her a comment.



For these reasons, I'm presenting Jaime at Mommy On A Mission with the
Bloggers Award.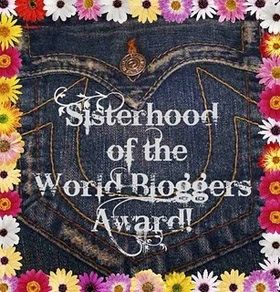 This award is passed from sister blogger to sister blogger. As in so many other things in life, there are a few conditions (4 simple ones) Jaime must follow in accepting the award. Sisterhood award recipients must:
Post a thanks and link back to the blogger who gave it to you.

Provide 7 little known and/or interesting facts about yourself.

Pass the award on to 7 other bloggers of your choice who you feel promote the "sisterhood" of bloggers and let them know they have been nominated.

Include the award logo in your post or on your blog.
Thanks Jaime for introducing me to this fun world that is blogging and all the support you have given!
*Happy Easter Everyone!